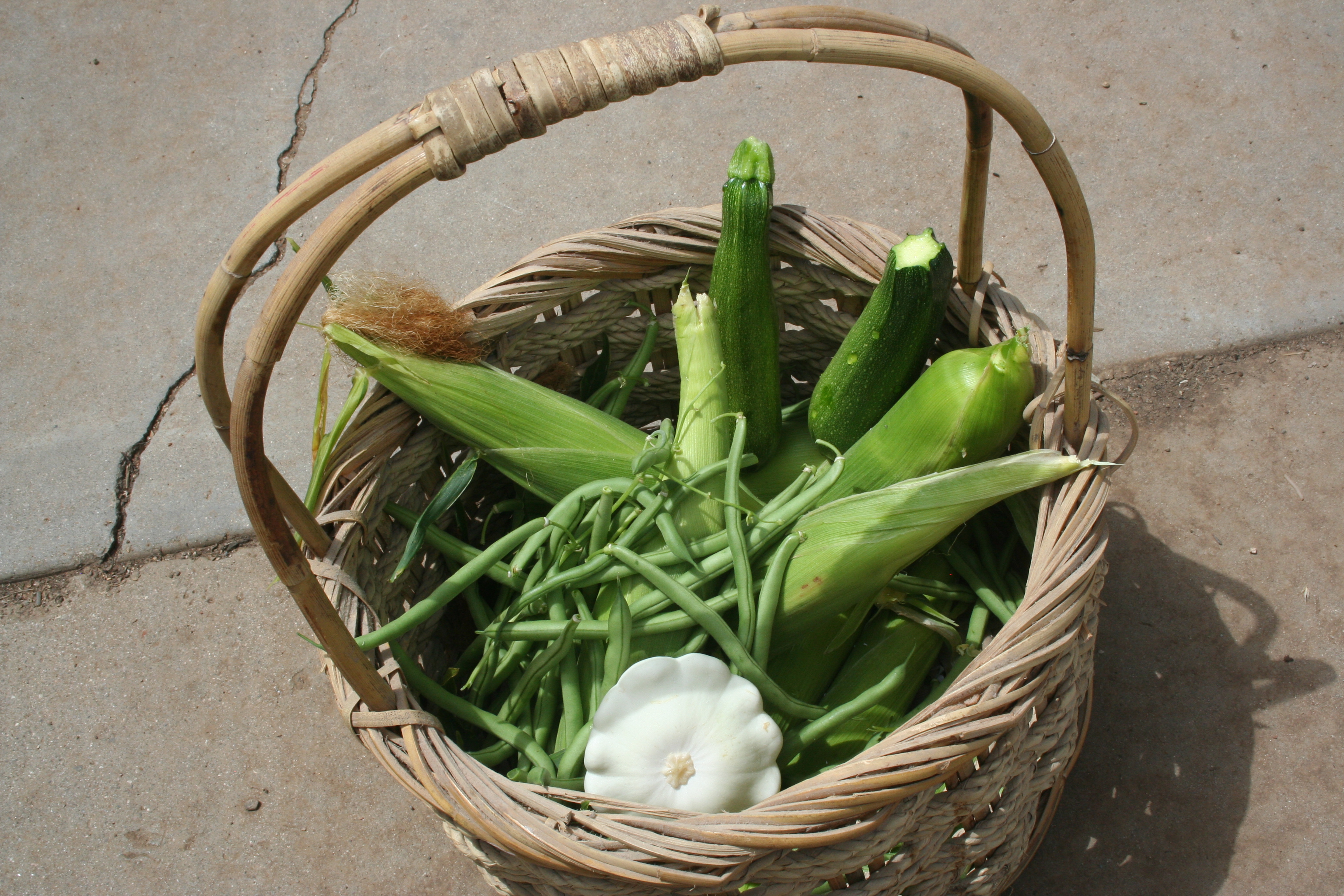 Yes, it is THAT time of year again.  Harvest baskets are full of delectable, delicious garden treats and Zucchini is taking over the world!   Here are a couple good recipes that allow you to extend your joy in the harvest as both can be cooked and frozen for use later.
Zucchini Fritters
3 c grated Zucchini
¾   c chopped onion
3 eggs beaten
½ c parmesan Cheese grated
¾ c bisquick, flour, or gluten free flour mix
¼ c Milk (optional)
dash of salt and/or pepper
Mix all together.  Fry like pancakes.
Delicious topped only with butter, or you can slather them with honey or maple syrup.  They pair up great with eggs for breakfast, or slather with peanut butter between two fritters for a sandwich.
Leftovers can be frozen then rewarmed in the toaster or microwave.
Momma Rose's Zucchini Bread, Gluten Free
2 Eggs
1/2 Cup Vegetable Oil
1 Cup Sugar
2 Teaspoons Vanilla
1 1/2 Cups freshly shredded Zucchini
1/4 Teaspoon Baking Powder
1/2 Teaspoon Baking Soda
1 Teaspoon Ground Cinnamon
1/2 Teaspoon Salt
1/4 Teaspoon Ground Cloves
1 1/2 Cups All Purpose Gluten Free Flour mix*
1 Cup Chopped Walnuts or Pecans (optional)
Preheat oven to 350 degrees.
Beat eggs, sugar, and oil in a large bowl with electric mixer. Add vanilla and mix well. In a separate bowl, combine flour, baking powder, baking soda, cinnamon, and cloves. Add dry ingredients to wet ingredients and stir by hand to mix well. Add zucchinni and chopped nuts and stir to combine.
Pour into a greased 9×5 loaf pan and bake in a conventional oven at 350 degrees  for 60 to 70 minutes, or a solar oven above 270 degrees oven for about an hour and 40 minutes.  Just look for the top to be rounded up and brown then test with a toothpick inserted into the middle to see if it comes out clean.
*If you don't want it Gluten free just use any all purpose flour mix.