Solar Ranch Products
In addition to books and articles, Solar Ranch provides a local outlet in central New Mexico for several solar products.  These can be purchased at the Solar Ranch booth at Solar/Sustainable and Earth Day events  or by contacting Rose at solarranch@swcp.com.
For more information click on the links below.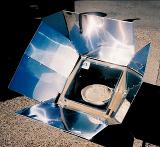 The Solar Chef: A Southwestern Recipe book for Solar Cooking