Solar Ranch manager Rose Marie Kern has written 5 books and over 1,000 articles for local, regional, and national publications.
A "Jill of all trades", Rose's career was in Aviation Weather, her passion is solar/sustainable living and her avocation is writing/publishing.  She's garnered acclaim in all three areas.  As she sees it, "The organic fusion of all three allow me to use crossover elements to enhance each facet of my life."   Rose has written award winning books in all these areas.  A certified Master Gardener, Rose raises and preserves her own vegetables.  Her cookbook, The Solar Chef has been continuously updated and in print since 2003.
For more information on books and articles written by Rose Marie click here.
For information on appearances at upcoming events click here.

The Solar Chef
A Southwestern Recipe Book for Solar Cooking, the Solar Chef contains detailed instruction on using solar cookers to create delicious meals. From Quiche to dessert, there are over 90 recipes.  Read about the best type of cookware to use and how to align the cooker with the sun. Each recipe specifies if the dish requires full sun or partial sun and contains alternate instructions for a conventional oven.  The Solar Chef is in its 7th edition and has the endorsement of the International Sun Oven company.
For more information click here
Creating Microclimates for High Desert Gardening
Where have you lived?  Midwest? Coast? Mountains? Desert?  What kinds of plants grow best in these regions?  Have you ever planted something that was not native to the area?
Although I have gardened in some fashion since childhood, it wasn't until my job moved me across the country that I learned how the differences between climates, elevations, soil and terrain can affect plants.   As an aviation weather briefer and forecaster I have a lot of knowledge of weather in general.  When I moved from Indiana to the High Desert I discovered that paying attention to weather variations and creating microclimates made a huge difference in garden productivity.   I've gardened in the Midwest, along a swampy coast, in the desert, and on top of a mountain foothill – in soils ranging from clay to sand to decomposing granite.  Plants that zing to life just by tossing seeds on the ground in Kansas may struggle into meager existence in Texas.  If you plan to grow cabbage, onions or carrots in Albuquerque, plant them in December for an April harvest.
High Desert gardening combines a dry climate with the effects of high altitude on plants and animals.  In any given high desert area you can have wildly varying climates within a 30 mile radius.  In the big scheme of things winds generally flow from west to east across the United States, but mountains can deflect that activity.  This book teaches you how to look at common growing environments in southwestern high desert regions critically in order to offer your garden plants the best possible chance of successfully producing fruits, vegetables and flowers.      For more information click here.
Making Money with FUNdraising Events!
A Step by Step Guide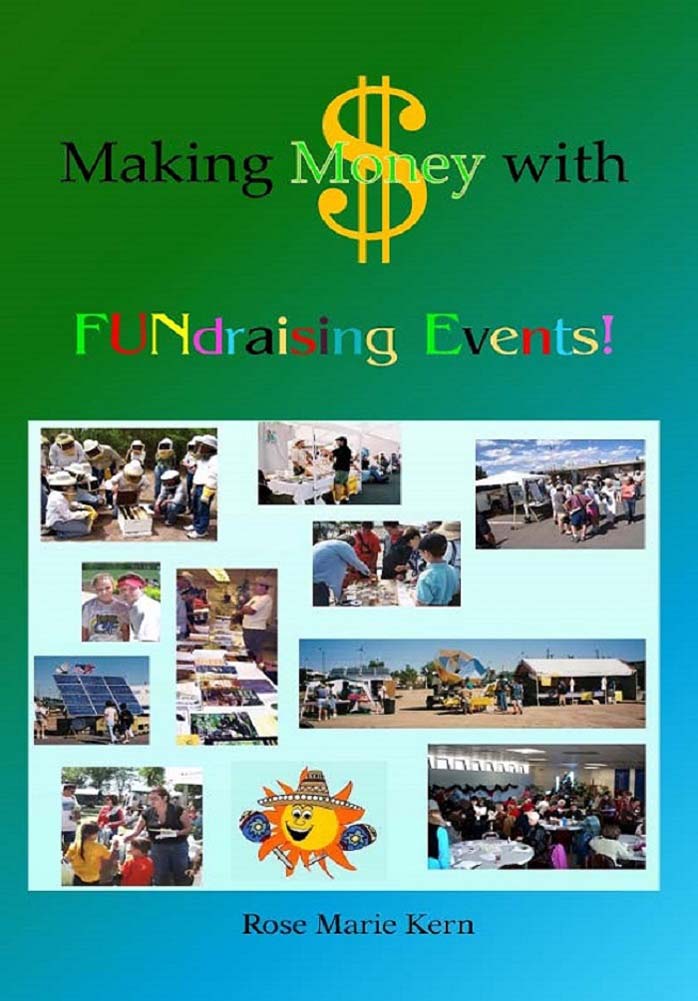 One of the basic conditions of being human is the desire to make our world a better place. Most people begin by improving their personal environment. They become educated, get a job, and create a home or a lifestyle that suits them.In the United States thousands of people look beyond their personal comforts. At some point in their lives they see something that just does not sit right with them, and they feel strongly enough that they want to do something about it. So they join other like-minded individuals and search for ways to change the situation.Thus are non-profit organizations born.
So, you form a group of giving, caring and enthusiastic individuals who are ready to change the world.But how?Just about everything you do these days costs money. Your group may want people to understand the need for better animal shelters, or feels the public needs to acknowledge African Dance as both a method for getting in shape and understanding world culture. You may feel the coal burning power plants in your state should be replaced with wind and solar energy or that kids need to be taught to defend themselves.Whatever your people want to accomplish requires thought, time, dedication and money. Unless your organization has managed to recruit a benevolent millionaire into the membership, the most challenging portion of this equation is the money.
Click Here for more information 
Coming Soon!
The following publications are currently in production.