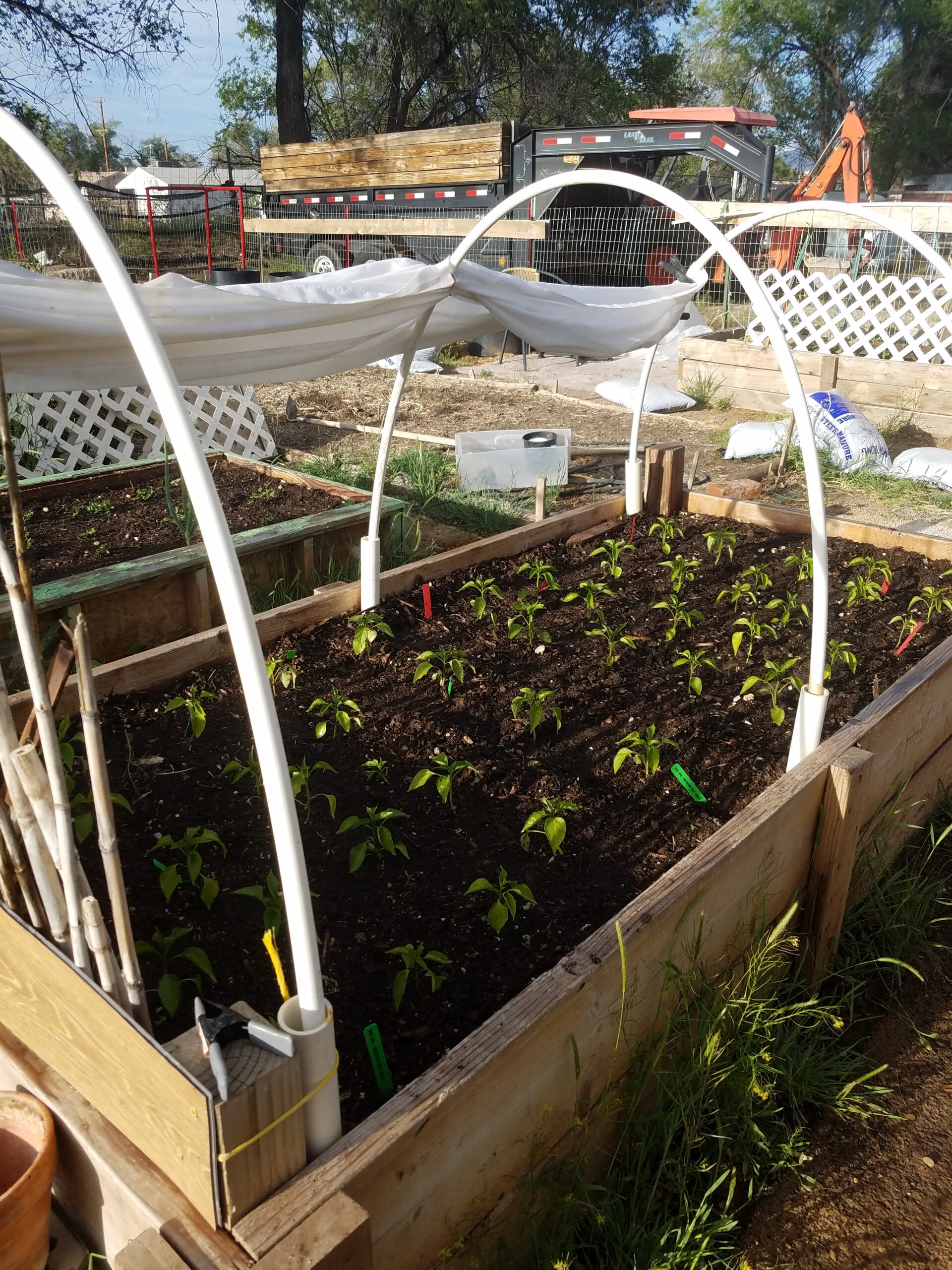 The curse of being passionate about something is that your enthusiasm sometimes overwhelms your good sense.
I started these lovely little plants in early February and they have been happily growing in the sunroom.  The warm days and not too cool nights we've had in the southwest made me think that the back of winter was broken – so earlier this week I transplanted them into my garden bed.
Now the NWS predicts freezing night time temperatures for three days next week!  However, I am NOT giving up without a fight.   Notice the hoops on the raised bed in the photo?  Those are 10 foot lengths of 1/2 inch PVC.  In the corners and center sides of the beds are some 1 1/2 PVC pipes about 15 inches long buried down to ground level.  The 1/2 PVC was forced into a hoop and set in place.
If you look closely on the top left you will see a curtain, which is attached to the PVC pipes.  Currently it is folded over to allow sunlight in, but next Monday it will be pulled over to cover the whole bed – with a couple gallon jugs of hot water set inside as well.  This should allow the plants enough warmth not to freeze during the few hours of the night in which the air flirts with disaster.
Of course, all my fruit trees are in bloom as well.  Luckily they are fairly young and not terribly tall yet, so I will water them well then cover them with bedsheets.
These are a few of the ways you can deal with late freezes.  I use water filled plastic surrounds (Wall O'Waters) for some individual plants.  A couple will have old tires placed around them with a covering which will come off during the days.  Some of my raised beds have other options.
If you want to quickly pull out a reference for creating microclimates to protect against either freezing or really high desert heat, you might want to get a copy of my book: Creating Microclimates for High Desert Gardening.   It is available on Amazon in either print or ebook format.  
Good luck with the Freeze!
Rose M Kern